Golden autumn at Hotel Latemar
The #latermarview at our Hotel Latemar is a window to the world: All you need to do is look out from our terrace to admire the changing seasons in Val di Fassa. When the air starts to grow crisp, the larches turn golden, the beeches red, and the forests glow in a multitude of colours, you know that autumn has arrived! Make the most of the most beautiful period of the year to relax, slow down, and recharge your batteries so you can return to your daily life full of renewed energy. Autumn is the perfect season for walking along the forest trails covered in a carpet of colourful leaves, sampling the typical Val di Fassa cuisine, and feeling at one with nature.
Here are three experiences you simply mustn't miss:
Motorcycle tours along the Sella pass, Pordoi pass, and Rolle pass
Bike tours along the cycle track in front of the hotel
Wine and culinary tours in nearby cities to discover autumn flavours
Do you want more information or advice from real experts? We're always happy to help: Just get in touch with us!
Autumn activities to suit all tastes
How about admiring the spectacular autumn landscapes from high above while paragliding? Heading out on a romantic horse ride or immersing yourself in Ladin culture during a visit to the Ladin Museum in Fassa? Autumn is the best time for fishing in Lago di Soraga, hunting for mushrooms in the forests, or enjoying a journey to discover the boundless cultural and artistic heritage of Val di Fassa. Find out about the most wonderful autumn excursions in Val di Fassa at the reception. Then, when you return, visit our restaurant, where you'll discover delicious autumn specialities like stew with polenta and mushrooms. Fall under the spell of the colours, tastes, and scents of autumn!
PS. Did you know that Hotel Latemar is a partner of WeBike? Rent your favourite bike with a 10% discount!
Thanks to the combination of snaking bends, breathtaking mountain passes, and panoramic mountain roads, Trentino-South Tyrol is one of the most beloved destinations for motorcyclists. If you've always dreamt of zooming around winding routes while admiring the majestic Dolomites, start to warm your motors and head to Val di Fassa astride your motorbike. From Hotel Latemar, you'll be spoilt for choice between Pordoi pass, Sella pass, and Rolle pass. On Sasso Piatto/Plattkofel, don't miss Col Rodella, one of the most spectacular panoramic viewpoints at 2,484 metres above sea level. Ready to be enchanted by the autumn colours from the seat of your motorbike?
THE SUITE INSPIRED BY NORTHERN EUROPE | New hotel wing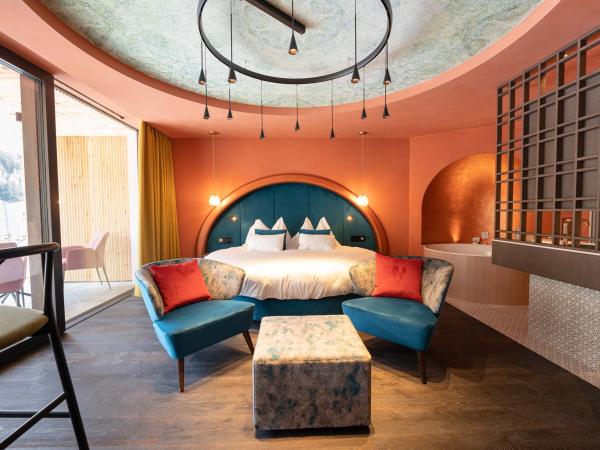 THE SUITE INSPIRED BY MIDDLE EAST | New hotel wing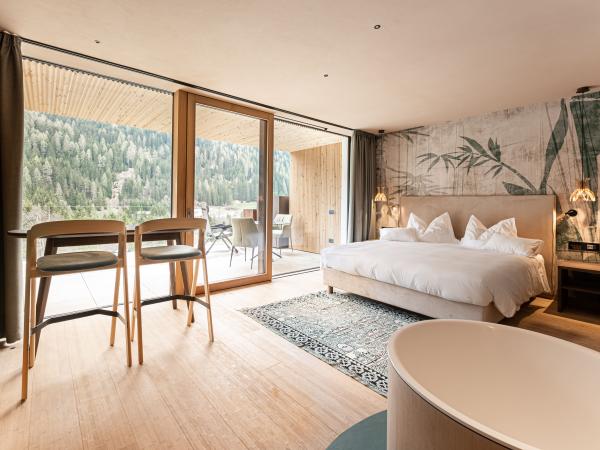 THE SUITE INSPIRED BY SOUTH AMERICA | New hotel wing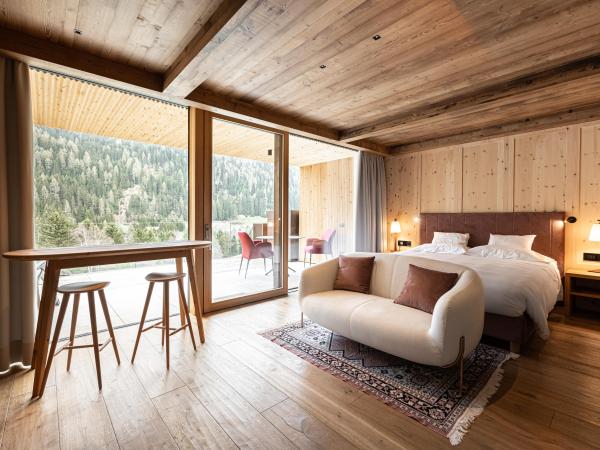 THE SUITE INSPIRED BY THE LADIN WORLD | New hotel wing