#latemarmoments with #latemarview
Hotel Latemar has prepared a dream location where you can spend the most wonderful occasions in your life with the people you love the most. Come and discover the spacious panoramic venue on the first floor, made of wood with a sloping roof and large windows that give you a spectacular view of the Dolomites.
Lights, atmosphere, and a panoramic view: only the best for your #latemarmoments!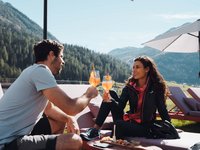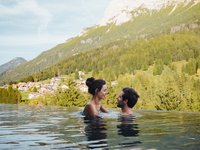 The day of the big "yes" has arrived: Come and celebrate the most romantic day of your life here with us!
Surprise your sweetheart with two hours of absolute intimacy in our Ofuro private spa and with unforgettable nights in our five new themed suites.
The spectacular #latemarview with make your heart skip a beat!
Marriage proposal
Do you want to mark the most wonderful moment of your life with an unforgettable marriage proposal? We'll be happy to transform your dream into reality and make your romantic moment truly unique.
You have two options:
Contact us to receive our suggestions planned right down to the very last detail to make your marriage proposal perfect, or let us know your wishes and we'll create a tailor-made offer just for you.
One thing is certain: It will be so emotional and idyllic that your sweetheart will have to say "Yes"!
Do you want to surprise your sweetheart with a film-worthy romantic moment? Then get in touch and leave it to us … all you'll have to do is relax and let yourself be swept up by the emotions of love!
PS. Do you want a sneak peek? We're preparing our "ROMANTIC BELVEDERE" offer for you: imagine a magical winter setting with expanses of snow and a fairy-tale atmosphere, or an idyllic green meadow kissed by the sun and dotted with coloured flowers. That's what we call the #latemarview.
Now imagine fresh rose petals, lights, ivy, heart-shaped balloons, a bottle of Trento DOC, and you, enjoying your romantic moment: a bench immersed in nature! Who knows how many lovebirds it has seen pass by … but right now, it's just you and your sweetheart. Experience a unique, unforgettable, emotion-filled moment.
Another year older, but the #latemarview stays the same! How about celebrating your birthday in our new venue with dreamlike panoramic view? Do you want balloon, a cake, sparkling wine, or an aperitif with finger food? Today, all your wishes will be granted: Blow out your candles and enjoy your #latemarmoment!
Alternatively, book our B-day set to surprise a special person with a romantic surprise in your room or suite!
Here's what you can look forward to:
White and gold balloons
"Happy birthday" banner
1 bottle of sparkling wine with glasses
Homemade biscuits
Anniversaries: milestone reached!
It's time for a big celebration! Treat yourselves to a regenerating day spa in our Oniro spa or two hours in the exclusive Ofuro private spa.
How about also booking a romantic set with a bottle of Trento DOC?
Book your #latemarmoment now!
Graduation: #latemarview with honours!
Do you feel like you've scaled countless mountains during your studies? Then it's time to relax and join us to celebrate your graduation party with the spectacular #latemarview! Toast with your friends with a bottle of Prosecco during a themed aperitif, or relax in our Oniro spa, on our terraces, or in our gardens.
Do you want to discover one of our highlights?
Enjoy a real #latemarmoment with our loose-leaf tea tasting!
Communions and confirmations: amen!
Now that you've confirmed your faith, how about confirming the beauty of the #latemarview? Fancy an adventure? Then come and discover the magical world of the animals on our farm and head out on an exciting walk by lantern light with us.
Are you looking for an experience dedicated to pure relaxation?
Then treat yourself to a few hours of well-being in our Oniro spa or take part in a tea or wine tasting.
There'll be #latemarmoments aplenty!
Our event venue can also be rented by external guests by filling out our enquiry form.
Just a moment - the content is loading …