Spring is in the air in Val di Fassa
Can you hear that chirping? The birds are announcing the good news: Spring has arrived! From your rooms and new suites, you can even spot the herons that have nested in the trees in front of our hotel, just a stone's throw from Lago di Soraga! Admire nature's reawakening while the Dolomites shed their blanket of white, the pastures turn a brilliant green, and the mountain meadows fill with fragrant flowers. Our minds also reawaken from their winter hibernation and get ready to embrace life in all its beauty.
Spring is in the air in Val di Fassa
Here are three experiences you simply mustn't miss:
Yoga sessions in the woods behind the hotel
Walks to Lago di Soraga
Horse rides and visits to nearby farms
Do you want more information or advice from real experts? We're always happy to help: Just get in touch with us!
Excursions, walks, and bike rides
Nature is reawakening, bringing with it the desire to move! How about a walk along Avisio river or a picnic on the shores of Lago di Soraga? Spring is the perfect season for walking along the "Troes di Ladins", the mountain paths used by the Ladin population to move from one valley to the next. Or if you can't wait to get on your bike, don't miss out on a great ride on the Dolomites cycle track that passes right in front of our Hotel Latemar! When you return from your adventures, treat yourself to moments of pure relaxation in our Oniro spa with #latermarview and soak up the essence of spring!
Horse riding and visits to mountain farms
Val di Fassa in spring is the destination for the perfect holiday for all lovers of animals and nature. A romantic horse ride through the flower-filled Alpine meadows will show you nature's reawakening in all its beauty. Ride alongside idyllic mountain lakes and lush meadows while the Dolomites turn red at sunset. Or discover the mountain farmhouses, visit local farms, and discover the simplicity and authenticity of rural life. This and much more awaits you around our Hotel Latemar!
PS. Did you know that Hotel Latemar is a partner of WeBike? Rent your favourite bike with a 10% discount!
Yoga: in harmony with nature
Finding inner peace, appreciating the beauty of the little things, and embracing a more mindful outlook on life are all elements of Zen philosophy. A philosophy that blends perfectly with the spirit of spring. At Hotel Latemar, we like looking to world cultures, in particular Japanese culture, and admiring the simplicity, harmony with the elements of nature, and the elevation of body and soul from the materiality of daily life. With our guided yoga sessions, you'll rediscover balance of body and soul and start to see life through new eyes. And for an even more intense purifying experience, try our Ofuro private spa inspired by the ancient Japanese bathing ritual. Spring begins with well-being!
Summer's fragrance 4=3 & 7=6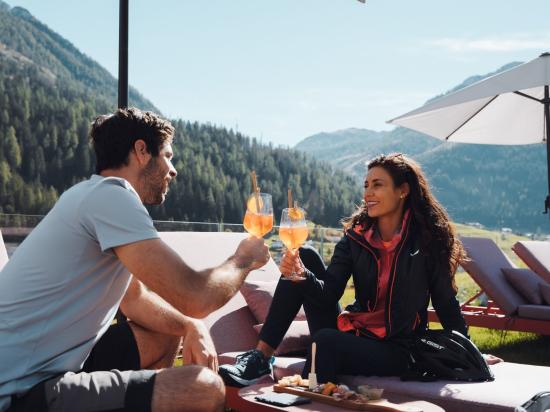 June of comfort in the Dolomites